Dear fellow shareholders, employees, customers, and partners,
Ten years ago, the World Wildlife Foundation estimated that farmers would need to produce more food in the next four decades than they had in the last 8,000 years of agriculture combined to feed our growing population. By their count, we have thirty years left to help farmers maximize their productivity and help sustain humanity.
Addressing this immense challenge is at the core of our purpose as an organization: Farmer-focused solutions to sustainably feed our world. We are rapidly innovating the solutions farmers need to maximize their productivity while minimizing — and countering — environmental impacts. Farmers are uniquely positioned to help tackle both global hunger and climate change concerns. At AGCO, we are on a mission to help them do just that, and we are making meaningful progress.
2021 Performance
Our focus throughout the COVID-19 pandemic has been two-fold — keep employees healthy and safe and keep our factories running to enable farmers to serve the global food supply.
Supply sources were impacted by COVID-19 disruptions, capacity constraints and transportation delays. Our supply chain team worked around the clock to creatively address those challenges and contribute to our record year.
AGCO delivered record results in 2021 supported by demand to replace an aging fleet and increased commodity prices that benefitted farmers. During 2021, AGCO reported net sales of approximately $11.1 billion, an increase of approximately 21.7% compared to 2020. Adjusted operating margins expanded over 210 basis points to 9.1%, due to higher sales and production levels as well as favorable pricing that helped to offset significant inflationary pressures. Reported net income per share was $11.85 and adjusted net income per share was $10.38, an increase of approximately 85% from 2020. Free cash flow was approximately $390.4 million, as compared to $626.6 million in 2020, due to the additional working capital requirements caused by the supply chain disruptions. These results, combined with our team's focused execution, allowed us to strengthen our investments in the smart, sustainable solutions that farmers require. AGCO's record results and strong balance sheet also enabled the return of almost $500 million to shareholders in 2021 in the form of quarterly dividends, a special variable dividend, and share repurchases.
Farmer-First Strategy
Grounded in our purpose, our new farmer-first strategy brings our vision of being farmers' most trusted partner for industry-leading smart farming solutions to life. Introduced to our key stakeholders throughout 2021, our strategy is designed to respond to what farmers most want and need: satisfying and seamless interactions with AGCO and our dealer partners, and high quality, smart solutions that deliver agronomic and economic value to their operations.
Delivering the exceptional brand experiences farmers want starts by actively seeking and responding to their feedback. Our new customer experience organization initiated a global Net Promoter Score approach to improve the consistency and frequency of customer feedback. This new framework focuses our organization on making meaningful changes to the customer experience.
Delivering the high quality, smart solutions farmers need to maximize productivity and minimize environmental impact starts with deep understanding of farmers' pain points and the agronomic challenges they experience. In addition to ongoing customer interactions in the field, we initiated a series of customer panels in 2021 to directly connect our leaders with farmers in each region.
Farmers have an essential role to play in addressing ongoing food security and the effects of climate change. Their adoption of sustainable farming practices and smart farming solutions are key to meeting these challenges. Our smart solutions help farmers maximize yield and minimize their inputs, while practices such as no-till farming help farmers sequester carbon in the soil.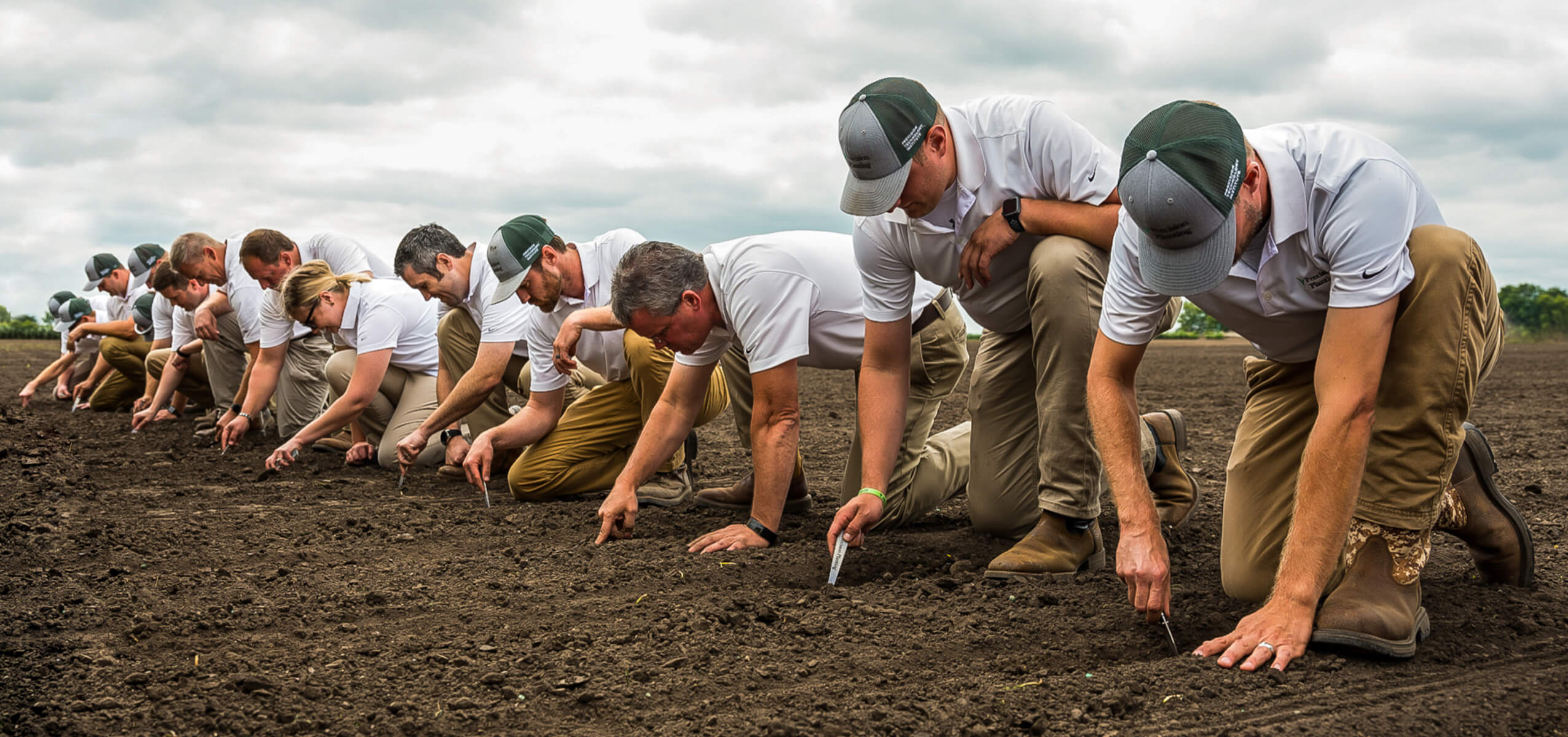 In 2021, our precision agriculture sales grew to approximately $540 million, which was a 34% increase over the prior year. With the launch of 23 precision agriculture products in 2021 and further innovation from our Precision Planting retrofit offering, our technology- supported products are driving meaningful growth. Supported by an increase of over $60 million in research and development investments compared to 2020, we accelerated our innovation and investment progress in smart solutions throughout 2021. We acquired Headsight, which brings smart solutions to harvesting; Faromatics, which leverages artificial intelligence and robotics to monitor poultry health; and Creative Sites Media, a software and app development company.
We also announced our agreement to acquire Appareo, which develops software and hardware technologies that enhance user experience and maximize productivity. In addition, we announced investments in Greeneye Technology, an innovator in precision spraying, and Apex.AI, a developer of safety-certified software for mobility and autonomous applications. These new capabilities will enhance our development of industry-leading smart farming solutions. Increasing the automation of our products' features will help farmers improve and sustain their operations. Automating complicated tasks now provides immediate value to farmers and is an important step to delivering fully autonomous machines in the future.
Decarbonizing our operations and products is another way AGCO — and farmers — can positively impact climate change. We have converted 40% of our operations to renewable energy sources, with a goal to reach 60% or more by 2025. We are also actively working to reduce the emissions of our products to support farmers' achievement of their sustainability goals, through cleaner engines and our investments and research into electrification and alternative fuel power sources.
Ongoing commitment to good governance
We have continued to evolve the composition of our Board of Directors to align the expertise of our directors with our strategic priorities. We welcomed three new directors to our Board in 2021. Bob De Lange, Group President, Services, Distribution and Digital, at Caterpillar Inc., brings extensive digitalization and global distribution experience to our Board. Matthew Tsien, retired Executive Vice President and Chief Technology Officer at General Motors, adds important technology and product development expertise to our Board. Niels Pörksen, Chief Executive Officer at Südzucker AG, brings European and global agriculture industry expertise to our Board. We also recently named David Sagehorn, retired Executive Vice President and Chief Financial Officer at Oshkosh Corporation, to our Board. We look forward to leveraging his financial expertise and experience associated with technology-rich vehicles. Our ongoing Board refreshment program reflects shareholder feedback and is designed to enhance shareholder value.
Making an impact
This past year marked my first year as CEO of AGCO and the first year of our farmer-first strategy. I am proud of what the AGCO team achieved together in 2021, and our results show that we are on the right path. Farmers need us to rapidly innovate to help them address global food security and climate change. Our AGCO team is up for the challenge.
Together, we are advancing the future of AGCO and agriculture. Thank you for your ongoing trust and partnership.
Sincerely,

Eric P. Hansotia
Chairman, President and Chief Executive Officer